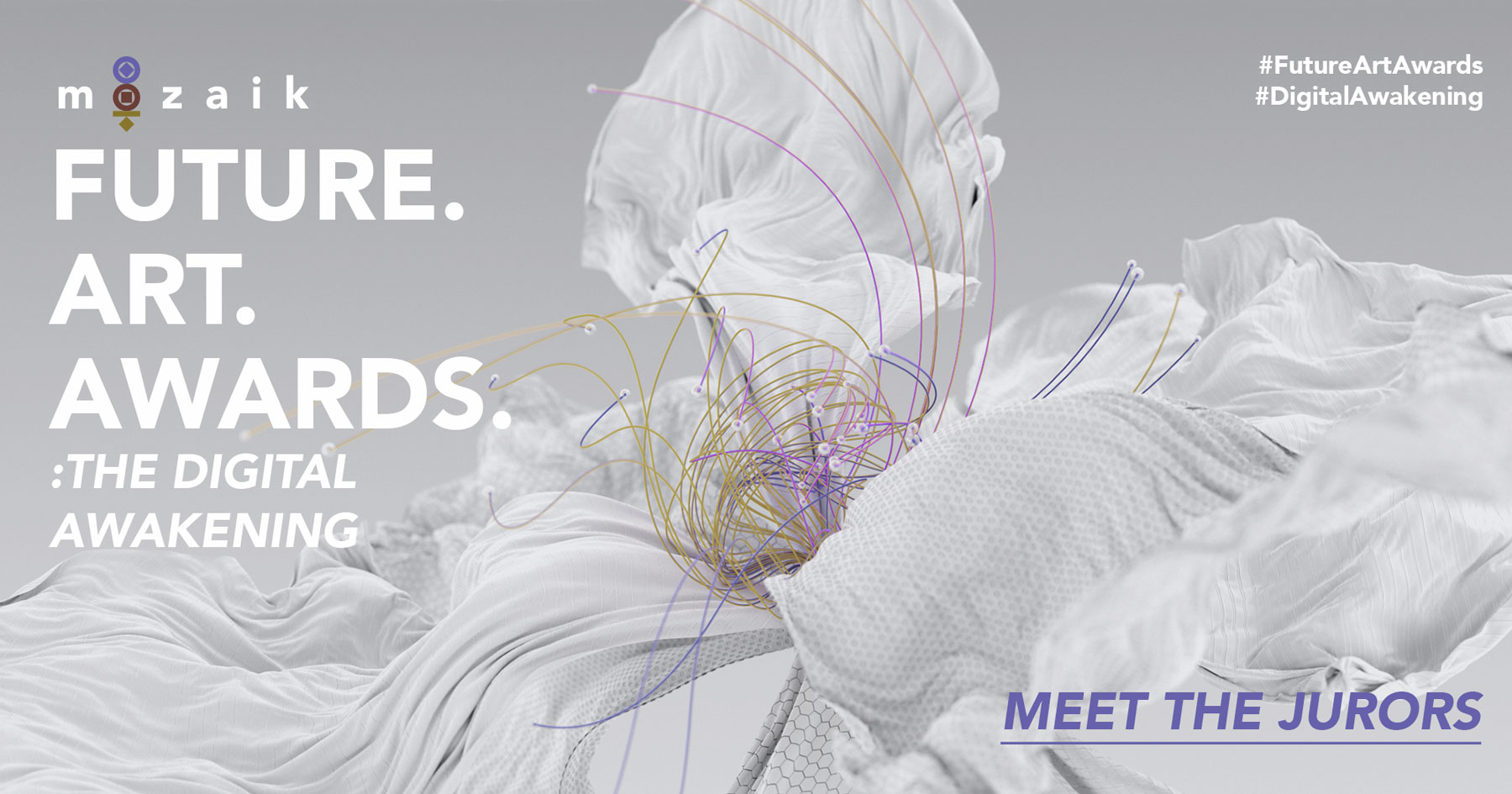 Future. Art. Awards.
A Blind Review By A Jury Of Artists
MOZAIK's mission is to democratize philanthropy by exploring and modeling new practices with disruptive, creative, and catalytic potential. In the arts, this work means inviting artists as social visionaries to help govern our grantmaking decisions, democratizing access to our philanthropic equity while championing new modes of participatory, inclusionary, and socially innovative grantmaking. This approach is aimed towards advancing a new, just economy and raising the bar on diversity, equity, inclusion, access and participation across the arts industry. 
Meet The Award Winners
Open Call Press Release
All submissions to The Future Art Awards are evaluated by an independent jury of artists and arts professionals in a blind review process, including featured and special mention artists and art writers from previous Future Art Awards and Future Art Writer Awards, modeling a circular economy where previous prize-winners 'pay it forward' to the next generation of grantees in the arts. All projects are viewed and judged randomly and anonymously using Submittable to ensure unbiased and fair judging.
Our esteemed panel of jurors include: 
Shana Nys Dambrot
Art Critic and Curator
Shana Nys Dambrot is an art critic, curator, and author based in Downtown LA. As the Arts Editor for the L.A. Weekly, and a contributor to Flaunt, Art & Cake, and Artillery, she approaches arts writing with an empathetic critique grounded in art history and a boundless appreciation for the power of art in society. She studied Art History at Vassar College, before leaving her native New York for the sunny climate of Los Angeles where she planned to stay "a couple of years," and where she has instead lived and worked since 1995. Dambrot writes monographic book and exhibition catalog essays, curates and juries eclectic exhibitions, is a dedicated Instagram photographer, and is the author of the experimental novella Zen Psychosis (2020, Griffith Moon). She speaks at galleries, schools, and cultural institutions nationally, is a Co-Chair of ArtTable's SoCal Chapter, an award-winning member of the LA Press Club, and sits on the Board of Art Share-LA and the Advisory Council of Building Bridges Art Exchange.
Sasha Stiles
AI Poetess and Artist
Sasha Stiles is a first-generation Kalmyk-American poet, artist and AI researcher recognized as a pioneer of generative literature and blockchain poetics. Her cross-media work — which has been nominated for the Pushcart Prize and Best of the Net, exhibited in analog and virtual realms around the world, and published as NFTs — probes what it means to be human in a nearly post-human era. Stiles is co-founder of theVERSEverse, a literary NFT gallery, and Poetry Mentor to the humanoid android BINA48, and has spoken on poetry and technology at SXSW, Miami Art Week and Art Basel, the Contemporary and Digital Art Fair, the Ai4 Tech Summit and elsewhere. Her first book, Technelegy, has been hailed as "an instant techno-classic."
Virginia Valenzuela
Managing Editor at SuperRare Labs
Virginia Valenzuela is a writer from New York City whose work has been published in Wired, The Independent, High Times, and the Best American Poetry Blog. She is the Managing Editor at SuperRare Labs, where she writes and commissions pieces on NFT artists and topics related to Web3 and the metaverse. She received a dual-MFA in Creative Writing from the New School, where she was the research assistant to David Lehman. She is in the process of tokenizing her poetry and writing her debut novel.
Krovblit is a Canadian visual artist living and creating in Southern California who is equal parts artist and surfer. He is extremely passionate about both practices; they feed into each other on a daily basis.
Krovblit's signature large format hand-cut collages are defined by exquisite color palettes and deeply imaginative scenarios. Using nature as his muse, the work is joyful and alluring. Infusing mythology and allegory he visually weaves cautionary tales about consumerism, consumption, and human condition – with a dash of retro-futurism. A "curator of lost images", he sources vintage imagery – botanicals, underwater seascapes, sci-fi, space exploration, pin-ups and pulp – repackaging the beauty he finds to tell a new story. 
His techniques combine traditional and methods of collage making. He favors a digital-to-analog process that begins in photoshop. Here he creates the blueprint for his large-scale hand-cut collages which he prints to any scale, cuts all the layers by hand, then re-assembles and glues onto custom birch panels. A coat of resin seals the work and adds dimension. Each series offers an expansion of ideas, techniques and imagery – a kind of layering or mash-up of genres much like the layers of each collage.
With his work starting out as digital, Krovblit's art lends well to both the physical art world and NFT space. He has been involved in many NFT projects including NFT Liverpool, Coinbase and Secret Walls LA.
Krovblit is an internationally collected artist who has participated in numerous juried exhibitions and solo shows throughout North America.
Tony London
Mixed-Media Artist
Imagine a world without art.  Now stop.  Imagine a world without nature.  Imagine a world without sound, and light.  Imagine the world without you, your creativity, your art, your love, your influence. We are more alike than you believe.  I am here to stay, we are here to go.  I am Tony London (Anthony Belizaire), New York Based Artist and Visionary. 
New York Based Artist, Tony London (Anthony Belizaire), has been practicing surreal mixed media since 2012.  Originally a graphic designer, Tony blended his mixed media skills with his 10 years experience as a graphic designer.  Although he works mostly in the digital art space, he doesn't stray away from getting a little messy and working with acrylics on canvas.    
Tony's evolution into surreal mixed media led him to begin experimenting with afrofuturism, which is a cultural aesthetic, philosophy of science and philosophy of history that explores the developing intersection of African diaspora culture with science and technology.  Tony has been introducing this style of art to the NFT art space to elevate cultural awareness among bipoc. Every digital art piece has a story and explains a piece of our history as African people.  Tony's ultimate goal is to build the connection between bipoc and the rest of the world.
Heidi Johnson
Founder of Hijinx Art PR and Management
Heidi Johnson is an accomplished public relations strategist, artist manager, self­-made entrepreneur, and the driving force behind Hijinx Arts. In the 15+ years since she founded the LA-based company she has demonstrated flexibility and foresight in the art world, welcoming, incubating, and celebrating innovative projects. 
With two decades of work in the entertainment industry, public relations, community relations, event and communication planning, and the art/design world, she amassed the perfect blend of experiences and skills to create Hijinx Arts. She continues to grow with the company, understanding the importance of evolving with the ever-changing industry, most recently leading the company into the world of web3. As an NFT early-adopter, she and Hijinx as a whole were uniquely primed to help usher artists into the space, placing them at the intersection of physical and digital art during this exciting Renaissance. 
Johnson has worked as the publicist for art shows including the LA Art Show and DesignerCon, a variety of galleries, and some of the art world's most beloved artists including Tristan Eaton, Robbie Conal, and Hueman just to name a few. Thanks to Johnson's impeccable relationships with LA Magazine, LA Weekly, Juxtapoz, Hi Fructose, KCRW, CNN, KCET, The LA Times, the Huffington Post, and more, Hijinx continues to expand and flourish.
Stay up to date with MOZAIK