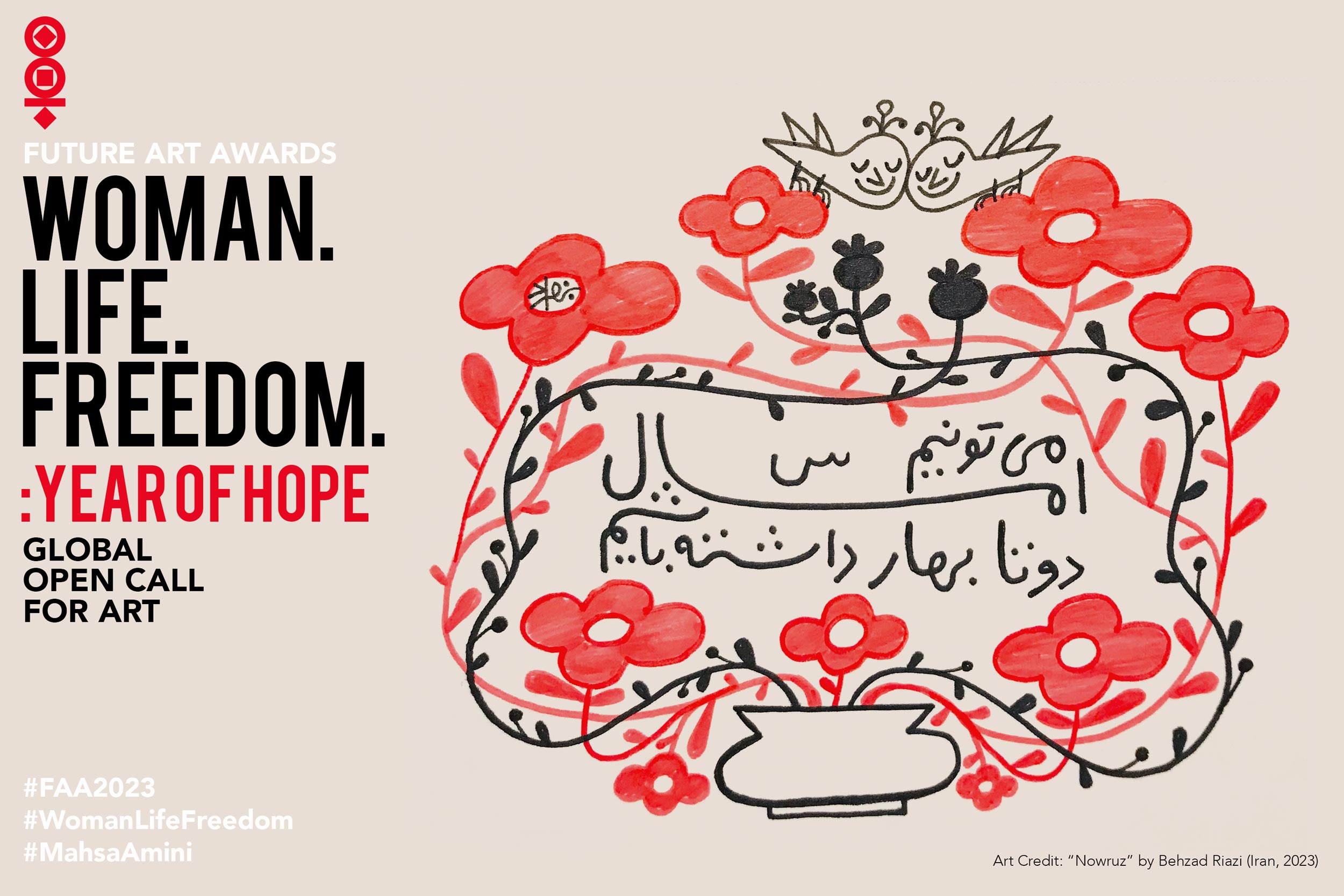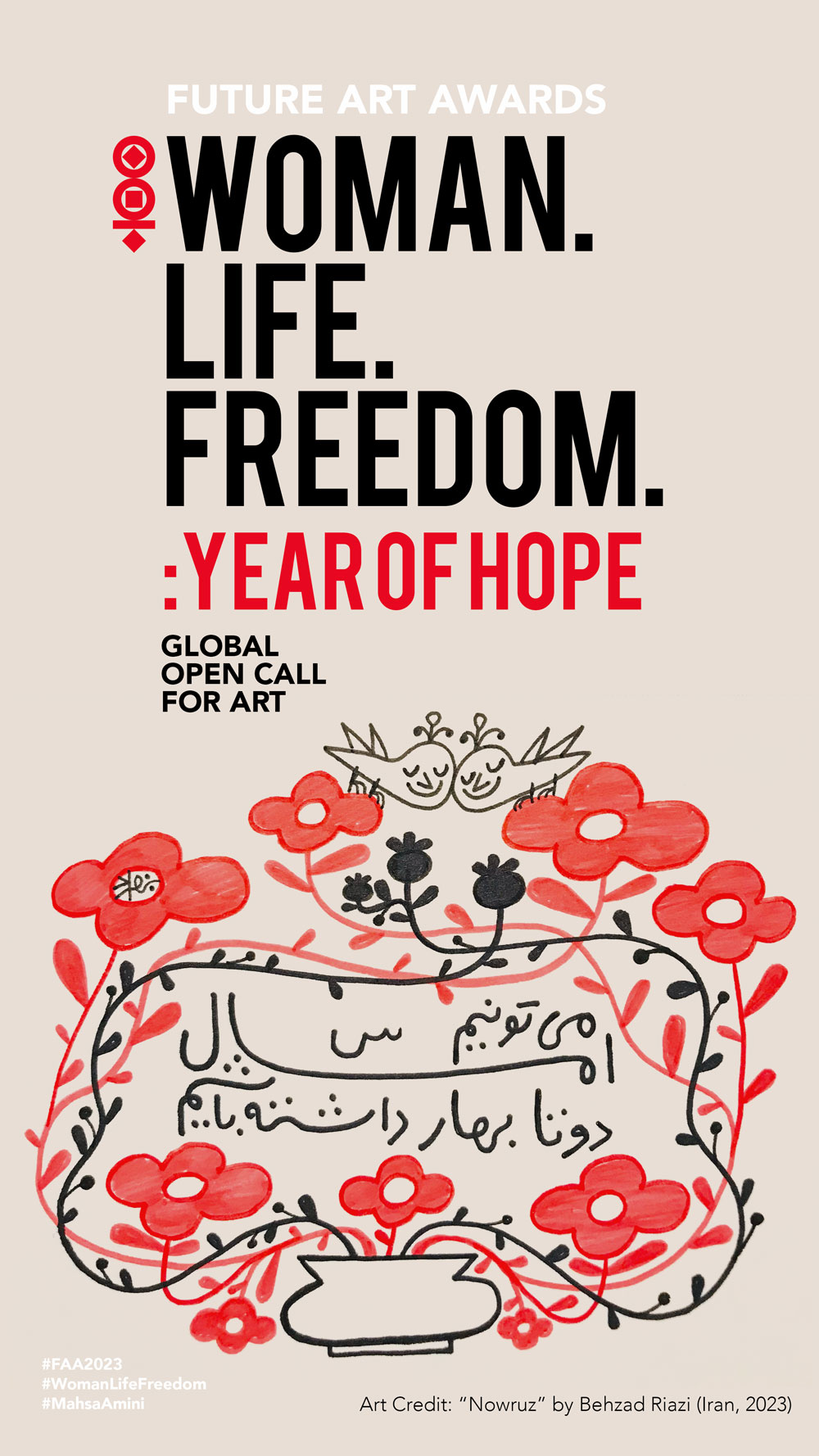 THE FUTURE ART AWARDS: WOMAN. LIFE. FREEDOM. YEAR OF HOPE
An arts-based expression of hope for the future of Iran.
Global Open Call For Art
Submission Deadline Extended: Sunday, April 9th, 2023 by 5pm Pacific Time
In January 2023, MOZAIK Philanthropy launched WOMAN. LIFE. FREEDOM.— a virtual exhibition and arts-based expression of global solidarity with the revolution for freedom in Iran. Featuring 50 contemporary artists from Iran and beyond its borders, the group exhibition sheds light on the first 90 days of the revolution through the power of art.
In the spirit of renewal and hope, and in cross-cultural celebration of Norooz 1402, MOZAIK Philanthropy has opened its second international open call art. We are inviting all artists of all ages and creative practices, from around the world, to submit works that represent the future of Iran in this year of hope.
Persian New Year brings time for reflection, intention and vision for a better future to come.
As generations of women, men and youth throughout Iran rise up in defiance of a brutal regime, the demands for a humane revolution for a free Iran — for regime change from below, for the people and by the people — and for the complete emancipation from all forms of oppression, discrimination, exploitation, and dictatorship ring true. These universal ideals reverberate throughout peaceful protests in cities across the world, in solidarity with the Iranian people, and as aspirational human rights for all people, in all places.
The women-led movement for a free society in Iran will not live at the margins. It will continue to blossom and grow mighty like the flowers laid on a haft-sin to celebrate Spring.
This is the year of two springs.
This is the year of hope. 
THE FUTURE ART AWARDS: WOMAN. LIFE. FREEDOM. YEAR OF HOPE
An arts-based expression of hope for the future of Iran.
Artists are encouraged to interpret the hopeful future of Iran using any medium. Previously, over 300 artists have exhibited their works in Future Art Awards group exhibitions, including photographers, painters, sculptors, street artists, muralists, mixed-media artists, visual, multi and interdisciplinary artists, illustrators, animators, 3D artists, Web3 poets, cartoonists, technologists, filmmakers, art writers, composers, weavers, dancers, and creative performers. 
Eligibility
All artists are welcome, including aspiring, emerging and established artists. Open to all art Mediums. BIPOC and other historically underrepresented artists are encouraged to submit their art. Free to submit!
Evaluation
All submissions are evaluated by an independent jury of artists and arts professionals in a blind review process, including featured and special mention artists and art writers from previous Future Art Awards and Future Art Writer Awards, modeling a circular economy where previous prize-winners 'pay it forward' to the next generation of grantees in the arts. All projects are viewed and judged randomly and anonymously using Submittable to ensure unbiased and fair judging.
About The Awards
Selected artists will be featured in the WOMAN. LIFE. FREEDOM.: Year of Hope virtual exhibition and will receive a $1,000 prize honorarium. 
SUBMIT NOW
Stay up to date with MOZAIK