Future. Art. Awards.
A Blind Review By A Jury Of Artists
MOZAIK's mission is to democratize philanthropy by exploring and modeling new practices with disruptive, creative, and catalytic potential. In the arts, this work means inviting artists as social visionaries to help govern our grantmaking decisions, democratizing access to our philanthropic equity while championing new modes of participatory, inclusionary, and socially innovative grantmaking. This approach is aimed towards advancing a new, just economy and raising the bar on diversity, equity, inclusion, access and participation across the arts industry. 
All art submissions to the 2021 Future Art Awards: Ecosystem X will be assessed by an independent jury of artists and art professionals in a blind review, including several featured and special mention artists of the 2020 & 2021 Future Art Awards.
Our esteemed panel of jurors include: 
Ghazal Rahimi is an Iranian Interdisciplinary visual artist based in Los Angeles. She was born in Tehran, Iran. She has received her BFA from Otis College of Art and Design, and her MFA from the University of California, Berkeley.
Rahimi's work moves between painting, drawing, sculpture, and installation. Within her practice, she explores concepts of duality, cultural assimilation, and simultaneous realities in oneself. Based on the theoretical position that exposing oneself to a liminal space (in-between the familiar and the unfamiliar and/or the tradition and the revolution), is an aesthetic process, she explores what may change and shift in cultural transitions, what are the challenges, and what gets lost in this transition.
Rahimi utilizes Islamic geometric patterns to represent societal rules and costumes, and shatters their designs, imagining liberation from cultural pressure and geopolitical borders, with mending and transformation taking shape in the process. By presenting the Islamic and abstract patterns out of their historical function (that was beauty and to show the notion of the divine), she aims to bring attention to how cultural heritage could be reinvented and used as a corridor to progressive modernity.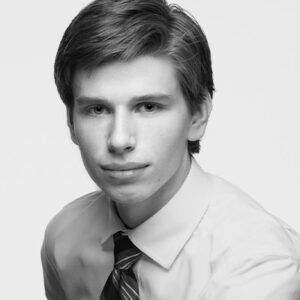 Jacob Wiant is an 18-year-old artist from Fort Worth, Texas. He attends Savannah College of Art and Design, majoring in production design. In his High School career: Wiant completed three Advanced Placement Studio Art Portfolios, earned the Heart of Neiman Marcus Social Justice Award in the SPARK Dallas Student Creativity Showcase, and received an honorable mention in the 2nd annual MOZAIK Philanthropy Future Art Awards contest. Although his primary interest is in film production, he works in nearly every visual art media to create impactful stories. In his work, Wiant enjoys using a highly diverse range of media. With expanding interests, he seeks to engage any form of art. Finding sustainable materials that are environmentally beneficial is also a critical factor in his work. Addressing issues specific to his first home in Texas have inspired his work as well. Wiant feels that "the methods and processes used in creating art are as important as the art itself." Wiant's work incorporates and honors the previous elements from artists like Dalí, Escher, and Khalo, along with stylistic components from Van Gogh, Tim Burton, and Guillermo del Toro.
While constantly creating, he is excited about his future in the arts, collaborating with other creators and organizations.
Jason "JaFLEU" Fleurant is an Haitian American self-taught cartoonist. Raised in West Palm Beach, Florida, he discovered his creative voice as a response to the earthquakes in Haiti in 2010 and since has gone on to create with a mission. He founded "Exhibit Treal" in his apartment in 2014 as an outlet for exhibiting his and fellow creatives of color artwork. He would go on to curate exhibits in galleries such as all three floors of the 1310 Gallery in Ft Lauderdale, several Art Basel Exhibits and more. 
As a visual artist, JaFLEU would see success in having his works exhibited internationally and in the homes of the likes of Scholar Dr. Michael Eric Dyson, Senator Cory Booker, Recorded Artist Jill Scott, the late XXXtentacion, Spelling Bee Champion, Zaila Avant-Garde and more. In 2016, JaFLEU found his next step. He began studying cartooning and animation heavily. Leading to the rebranding of Exhibit Treal to "Fleurant's Studios" in 2021, and the birth of his brand of animations called "TREAL TOONZ" (created in 2017). 
JaFLEU, who is also known as a Spoken Word artist who has performed on many stages, including as a feature on 2017's FLO'pocalypse held at the Broward Center of Performing Arts. His animated short "To love your Blackness is a Revolutionary Act " received the Ed Summer Supersnipe Animation Award at BIFF 2020. Following, his animated short "Pop, Pop, Pop", which address Police Brutality, won "Best Animated Short" at Real Reel International Film Festival 2020, and his most popular spoken word piece turned animation "Young x Gifted & Black" was awarded the MOZAIK Philanthropy "Future Art Award" in 2021 and was included as a top ten featured artwork in the 50 artist group exhibit. 
Jason "JaFLEU" Fleurant has made quite a lane for himself as an Indie Director/Filmmaker and Animator. Fully focused on telling the treal tales that swim in his mind and sharing black stories, his works can be watched on the Black-owned streaming network, Kweli TV.
Jiannan Wu, born in 1990 in Dalian, China, is an artist specializing in sculpture. He is the Elected Member of American National Sculpture Society, member of American Medallic Sculpture Association, and World Economic Forum Global Shaper of Dalian Hub. Jiannan Wu received his BFA Degree in Sculpture from China Academy of Art and his MFA Degree in Sculpture from New York Academy of Art. Through formats of relief and diorama, Jiannan Wu presents the theme of contemporary urban life in a realism and narrative way.
Jiannan Wu is the recipient of the Elizabeth Greenshields Foundation grant, winner of 2017 Dexter Jones Award presented by American National Sculpture Society and other awards. He is selected as 2020 AACYF Top 30 Under 30 presented by All America Chinese Youth Federation. His work is recognized as The Best Original Sculpture in 2019 by Sculpture Magazine of China. His works have also been displayed on numerous exhibitions at renowned venues such as Accesso Gallery in Italy, Gallery Poulsen and Art Herning in Denmark, the Sotheby's, Art Miami, and Southampton Arts Center in America, Bonner Kunstverein in Germany, Chongqing Contemporary Art Museum in China, etc.
Kimberly Robertson (Mvskoke)
Kimberly Robertson is an artist, anti-violence advocate, scholar, teacher, mother, and citizen of the Muscogee (Creek) Nation who works diligently to employ Native feminist theories, practices, and methodologies in her hustle to fulfill the dreams of her ancestors and to build a world in which her daughters can thrive. Robertson is an active member of the Los Angeles Indian community and currently serves as the co-creative director for Meztli Projects and is a boardmember for So'oh-Shináli Sister Project – an Indigenous education and wellness organization.
Robertson earned an MA in American Indian Studies and a PhD in Women's Studies from the University of California, Los Angeles in 2012.  She is currently an Associate Professor of American Indian Studies at California State University, Long Beach.  Her scholarship centers Indigenous feminisms and focuses on Indigenous resistance to violence against Native women. Her creative practices currently include screen printing, collage, beadwork, installation art, and zine-making and centers the ideas and practices of ceremony, storytelling, intersecting subjectivities, dislocation, decolonization, and Indigenous futurities. 
Leah Gallant is a writer from Cambridge, MA whose work focuses on the intersections of art, architecture, and social history. She has written for The Brooklyn Rail, Chicago Reader, and THE SEEN, and currently works on the editorial team at Artsy. She is a participant in the 2021 Art Writers Workshop, a program of the Andy Warhol Foundation and AICA – USA, and is also a recipient of the 2021 MOZAIK Future Art Writing Award and the Philly Artblog's 2017 New Art Writing Award. She is based in Chicago and holds degrees from Swarthmore College and the School of the Art Institute of Chicago.
Solomon Robert Nui Enos is a Native Hawaiian artist, illustrator, and visionary. Born and raised in Makaha Valley (O'ahu, Hawai'i), Solomon hails from the well-known Enos 'ohana. Solomon has been making art for more than 30 years and he is adept at artistic expression in a wide variety of media including oil paintings, book illustrations, murals, and game design. A self-described "Possibilist" Solomon's art expresses an informed aspirational vision of the world at its best via contemporary and traditional art that leans towards Sci-Fi and Fantasy. His work touches on themes like collective-consciousness, ancestry and identity, our relationship with our planet, and all through the lens of his experience as a person indigenous to Hawai'i.
Solomon has exhibited in Biennial X (Honolulu Museum of Art), 6th Asia Pacific Triennial of Contemporary Art (Queensland Art Gallery), CONTACT art exhibitions, and others. His work is held in private collections and in the public collections of the Smithsonian Asian Pacific American Center and Hawai'i State Art Museum. He has led numerous community mural projects and has received art commissions for hotels, corporate offices, public buildings, and schools in Hawai'i. His latest works include murals and augmented-reality installations for Google and Disney.
Stacey R. Queen is an educator, artist, art historian, and blogger. In her current role as Public Programs Manager at the National Veterans Memorial and Museum she captures the stories of our nation's Veterans and connects visitors to the Veteran experience. Before joining the National Veterans Memorial and Museum, Queen was the Education Associate at The Amistad Center for Art & Culture at the Wadsworth Atheneum Museum of Art, the oldest, continuously-operating public art museum in the United States. Previously, she served as Programs Coordinator at the National Great Blacks In Wax Museum, Museum Educator at the Maryland Historical Society and Visitor Services Associate at the Baltimore Museum of Art. 
Queen has held positions in audience engagement and visitor experience at The Daughters of the American Revolution Museum and the Maryland Science Center. In addition, she was a K-8 visual arts educator in the Baltimore City Public School System. Her background in photography coupled with her research in gender studies, race, and African American identity and representation in visual arts drives her work as she explores current issues around social movements, political unrest, street art and artists. She holds a B.A. from Hampton University in Studio Art and a M.A. from Towson University in Art History. 
When she gets a free moment, she enjoys traveling, visiting museums and galleries, meeting fellow artists and drinking a lot of Starbucks.
Stay up to date with MOZAIK