2021 FUTURE.ART.AWARDS.
Thank you to each and all of the inspiring artists who submitted to our open call for the 2nd Annual Future Art Awards.
This year's 2021 Future Art Awards is an arts-based exploration of the changing meanings, practices, paradoxes, and futures associated with Democracy. Welcoming a diverse range of art submissions from hundreds of artists across the United States, MOZAIK Philanthropy's 2nd Annual Awards program drew inspiration from the top of social and environmental justice movements of the recent past, including Black Lives Matter, Stop Asian Hate, Me Too, Times Up, Keep It In The Ground, and Love Wins, among others.
The 2021 Awards celebrated the theme Re-Imagining Democracy by inviting artists of all backgrounds and creative expressions to submit their art as a commentary on the current and future state of U.S. democratic values. 
In keeping with MOZAIK's mission to democratize philanthropy through a participatory grantmaking practice, the organization welcomed an independent jury of art professionals to assess the art submissions in a blind review, ultimately selecting 10 featured artists to receive $2,000 honorarias and an additional 40 special mention artists to receive $1,000 honorarias. 
Collectively, all 50 artists are showcasing their work in a virtual exhibition now open and free to the public here. 
Join us in celebrating the 2021 Future Art Awards Featured Artists and Special Mentions…
Explore The Exhibition
press release
jurors & curator
writers award
2021 FUTURE.ART.AWARDS.
Meet The 10 Featured Artists
Abel Manalo
San Francisco, CA
Featured Art: I ❤️ America (2021)
Watercolor on Arches Paper, Handwoven, 45 1/2″ x 37 3/4″ x 2 1/2″
Abel Manalo is a San Francisco self-taught artist, who immigrated from the Philippines to the United States in the 1980's. He started working during his teens, to help his family to settle comfortably in their new lives. He has thrived, overcome obstacles and adversities to pursue his artistic passion. Although he started his artistic creativity in 1998 at a community college, it was not until five years ago that he was able to pursue art full-time. In his creative process, he paints two original pieces then weaves them together into an entirely different work of art. Hand cutting and weaving strips of his paintings exemplify his commitment in concentration and meditation on each art piece. The weave patterns and physical manipulation of merging paintings create texture that conveys the energy that he puts in his artwork.  Oftentimes, he has a preconceived image within his conceptual framework however, there is always an element of uniqueness in his woven artwork when completed. He maintains an art studio at San Francisco Hunters Point Shipyard and has exhibited in several local galleries. Recently, he was featured at the 'The de Young Open' Group Exhibition 2020 at The de Young Museum.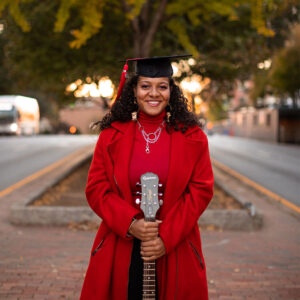 Camilla Sims
Athens, GA
Featured Art: C.S. – A Story That Mattered (2021)
Audiovisual Production
My name is Camilla Sims, artistically and musically known as Convict Julie. Originally from Atlanta, Georgia, I transferred to the University of Georgia in 2018 from Lee University in Tennessee, where I studied theology, business, and the work of Dr. Martin Luther King Jr. I had never been to Athens until I transferred as a third year to the University of Georgia in 2018. While here I built a music career that was halted involuntarily by the Coronavirus pandemic, I made a choice to voluntarily halt my music career to become an organizer against economic and racist oppression and police brutality in Athens, Georgia. Organizing 100 days of protest, I felt the need to fight for the rights of myself and the rights of the unheard voices of the community that I am grateful to be a part of. As a Black woman with many intersections of identity, I recognize my own uphill battle that comes with existing. Staying inside and remaining quiet about my experiences and pain gives power to the system that oppresses me daily. This experience has awarded me the recognition of my own empowerment, progress, and the affirmation that change will come in my lifetime. Recently graduated from the University of Georgia in December 2020. I am continuing my community activism in my music and hands on service with the Athens Anti-Discrimination Movement.
Donna Bates
Glendale, CA
Featured Art: Veritas/Libertatis (2018)
Oil on Two Dibond panels 16×48″ for a total of 32×48″
Native Southern Californian, Donna Bates has years of experience as a commercial illustrator, 3D Artist, and as a teacher for over 20 years, which has evolved into a career in painting. She is a self-taught figurative artist that is known for her own fresh mash-up of urban and tough-chic style with an edge. She has exhibited in various group shows such as RJD Gallery, Rehs Contemporary Galleries, 33 Contemporary Gallery, Zhou B Art Center plus a solo show at Gabba Gallery. She was a featured artist in a four woman show at Annenberg Beach House, Santa Monica and had two paintings on HBO's show "Insecure" Season 3 and another on the upcoming Season 5. She was a finalist in WMOCA's International Biennial Portrait Competition and a finalist in ARC Salon 14. Currently, one of her paintings is on a billboard in Los Angeles, curated by SaveArtSpace plus three paintings in the Lancaster Museum of Art and History's 36th Annual all media juried exhibition. Her work has been published in American Art Collector, PoetsArtists Magazine, Klassik International Magazine, The Argonaut Magazine and Sag harbor Express. She has work that is part of the Bennett Collection, plus works in various other private collections.
Elana Mann
Pasadena, CA
Featured Art: Our work is never done (unfinished business) (2020)
10′ x 28″ Sculpture in Fiberglass
Elana Mann is an artist based in Los Angeles, CA who explores the act of listening and amplifies unheard voices through sculpture, sound, performance, and community engagement. Mann has presented her work in recent solo exhibitions at 18th Street Arts Center, Santa Monica, CA, Lawndale Art Center, Houston, TX, Artpace, San Antonio, TX, Pitzer College Art Galleries, Claremont, CA, Commonwealth and Council, Los Angeles, CA and Baik Art, Los Angeles, CA, with group exhibitions and screenings at the Museum of Contemporary Art, San Diego, CA, the Hirshhorn Museum, Washington D.C. and the Orange County Museum of Art, Santa Ana, CA. She has received numerous awards including a 2021 Sustainable Arts Foundation Award, a 2020 City of Los Angeles (COLA) Individual Artist Fellowship, a fall 2020 Artist-in-Residence at Artpace, San Antonio, TX and a 2019 Stone & DeGuire Contemporary Art Award. Her work can be found in public collections at the Getty Research Institute and the Center for Political Graphics, among others. Mann's artwork has been written about in the LA times, Artforum and X-tra Magazine. In addition, Mann curates, collaborates, organizes, and writes. She co-edited, with John Burtle, the anthology "Propositional Attitudes: What do we do now?" (Golden Spike Press: 2018).
Ian Matchett
Detroit, MI 
Featured Art: Living Room (2018)
Oil on Canvas 96″ x 66″
Ian Matchett is a figurative oil painter born in 1991, raised in West Michigan, and based in Detroit since 2014. He attended the University of Michigan Ann Arbor and received degrees in both Political Science and Studio Art. His work is primarily focused on the humanity, experiences, and drives of political organizers and working people, drawing inspiration from the social realist tradition and his own experiences as a community organizer. His paintings try to demystify figures of the past and valorize present day organizers, in an effort to explore and translate the experience of trying to change the world. His work has been shown at the national, regional and local level, as well as book covers and publications like Peace Land and Bread and Regeneration Magazine.
Jason Fleurant
West Palm Beach, FL
Featured Art: Young x Gifted & Black (2020)
Animated spoken word video
Jason "JaFLEU" Fleurant is an Haitian American self-taught cartoonist. Raised in West Palm Beach, FL he discovered his creative voice as a response to the earthquakes in Haiti in 2010 and since has gone on to create with a mission. He founded Exhibit Treal in his apartment in 2014 as an outlet to exhibit his and fellow creatives of color artwork. Through it he would go on to curate exhibits in galleries and more. As a visual artist, JaFLEU would see success in having his works exhibited internationally and in the homes of the likes of Scholar Dr. Michael Eric Dyson, Senator Cory Booker, Recorded Artist Jill Scott and more. In 2016, JaFLEU found his next step. He began studying cartooning and animation heavily. Leading to the rebranding of Exhibit Treal to Exhibit Treal Studios in 2019, and the birth of his brand of animations called "TREAL TOONZ" (created in 2017). Since then, through animated short films and Web-series like the multiple awards winning "Reppin' Matterz" (which was seen on South Florida PBS), Jason "JaFLEU" Fleurant has made quite a lane for himself as an Indie Director/Filmmaker and Animator. Fully focused on telling the treal tales that swim in his mind.
Junior Jimenez
Miami Beach, FL
Featured Art: For Sale (2021)
18″x24″ Mixed Media
I was born on July 16th, 1967 in Paterson, New Jersey from a migrant Puerto Rican family. My Parents moved to the USA in the 60's following their siblings in search of new opportunities. In the 70's my parents moved back to Puerto Rico and established their home in their hometown of Camuy. In Camuy, me and my sisters had a very simple and humble upbringing. There was not much to do in our spare time and most activities were around church or school. The catholic church in my town provided us with sports, scouting and several other activities. After high school, I went to Universidad Sagrado Corazón, in San Juan and began my career in communication; visual arts. I graduated from Kean University in Union, New Jersey with a Bachelor of Fine Arts: Visual Communication concentration in Graphic Design. I work as a freelance art director. Also, I'm developing my art and a cyber gallery to showcase my work. Currently I'm living in Miami Beach, where the days are warm and sunny all year around.
Kimberly Robertson & Estella Burque
Tongva Lands, CA
Featured Art: Not Enough Sage (2019)
12"x18" mixed-media (photograph, offset printing, seed beads, and bugle beads).
Kimberly Robertson is a citizen of the Muscogee (Creek) Nation and an artivist, scholar, teacher, and mother who works diligently to employ Native feminist theories, practices, and methodologies in her hustle to fulfill the dreams of her ancestors and to build a world in which her daughters can thrive. She was born in Bakersfield, CA and currently lives on unceded Tongva lands. She is an Associate Professor of American Indian Studies at California State University, Long Beach.  Her creative practices include screen printing, collage, beadwork, installation art, and zine-making and center the ideas and practices of ceremony, storytelling, intersecting subjectivities, dislocation, decolonization, and Indigenous futurities. 
Estella Burque is a citizen of the Muscogee (Creek) Nation and a seventeen-year-old multi-media artist living in Northeast Los Angeles.  Raised on unceded Tongva lands, Estella is an active member of the Los Angeles Native community and has both led and assisted others in employing art as a tool for social justice. 
Lilli Muller
Los Angeles, CA
Featured Art: Collateral Damage (2018)
Audiovisual production
I am a German multidisciplinary artist currently living & working in Los Angeles. My work explores the dynamics of the human condition, while addressing the motives behind our actions, emotions, movements and societal issues. I was honored by the City of LA with several Arts Awards for contributions in the arts community. I have been invited to exhibit with 2 large scale installations at the Venice Biennale (2017/2019) in response to the global refugee crisis, displacement and diaspora worldwide, with another pending for 2022: "The Global Supper", creating a dialog on global inequality, division, diversity, spiritual expression, the loss of moral code and humanity as a whole and the environment, and the stress and isolation it creates for the individual and the community at large.
"Getting people engaged in the artmaking process offers them a different awareness while mirroring their own life experiences. It is no longer simply about the artwork itself, but the personal impact it has on each individual, and any further change it may cause. This inspires me to continue making art for the people, with the people, and about the people."
Matthew Pagoaga
Los Angeles, CA
Featured Art: Pop Song (2020)
12″ x 12″ x 6″ – Sculpture/Installation
Matthew Pagoaga is a Los Angeles based artist and technologist. His work interprets datasets toward aesthetic revisualizations and embodied experiences utilizing a combination of mixed-media, technology, public art, and light and space installations. Matthew's work probes elements of shared exploration, self-history, and collaborative play. At the same time, his work also interprets processes of archival degradation, social justice, and disruption. Matthew holds a Bachelor's degree in Applied Arts and Media from Antioch University and is a member of the Art + Technology graduate class of 2021 at California Institute of the Arts. His next work is a light and space installation set to debut this summer in the Torrance Art Museum's Ultra! public art exhibition. 
2021 FUTURE.ART.AWARDS.
Meet The Special Mention Artists
"We Are The World"
Aliona
"A New Kind of Garment"
Alma Roberts
"Chinatown"
Andrew Soria
"Don't Swim on an Empty Stomach"
Anthony Le
"Offering of Strength"
Barbara Hack
"The Disappearing Norms of Democracy"
Ben Fine
"Influence"
Bria Goeller
"We Interrupt this Broadcast: 1936-69'"
Brian Mark
"Clotho"
Brian Mune
"Frederick Douglass"
Bryce Culverhouse
"Headroom"
Christine Yerie Lee
"The Common American Jackass"
Cynda Valle
"Black Lives Matter: Video Installation"
Daniel Dowding
"Reach and Change"
David Adamo
"The Beckoning"
DeMar Walker
"Time Has Come Today"
Gary Gossens
"American on The Inside, Oriental on The Outside and/or Vice Versa"
Ghazal Rahimi
"Democracy"
 Badri Valian
"The Pariah"
Jacob Wiant
"Our House"
Jeff Garrett
"archipiélago"
Jay Roff-Garcia
"Solutions (Tiebreakers)"
Jennie E. Park
"PEACE"
Jessica Jackman
"Fight for Equality"
Joseph Ivacic
"Holding and Held"
Katie Kelm
"PUT THE BALLOT BACK IN THE BOX / IN-PERSON BALLOT DROP BOX"
Marina Heintze
"We the Persons"
Rosario Weston
"Demand Justice"
Sandra Filippucci
"One World Together. One World Be the Change."
Sangeetha Kowsik
"CURSIVE BINARY [CONTINUOUS SCROLL]: PORTRAIT OF THE POET AS A BRIEF HISTORY OF HUMANITY"
Sasha Stiles
"Reproductive Coercion"
Scott Meskill 
"Ethnic Shades"
Sean Free Alcaca
"Show Up"
Shanina Dionna
"Black History in the Making"
Taz Essa
"Erase and Rewind"
Tslil Tsemet
"Dipping"
Virginia Broersma
"Untitled 2021"
Anthony Belizaire
"Municipal Elections"
Barry Iverson
"I Have Arrived"
Durga Gawde
"American Portrait"
Leigh Brooklyn
Stay up to date with MOZAIK