Future. Art. Awards.
A Blind Review By A Jury Of Artists
MOZAIK's mission is to democratize philanthropy by exploring and modeling new practices with disruptive, creative, and catalytic potential. In the arts, this work means inviting artists as social visionaries to help govern our grantmaking decisions, democratizing access to our philanthropic equity while championing new modes of participatory, inclusionary, and socially innovative grantmaking. This approach is aimed towards advancing a new, just economy and raising the bar on diversity, equity, inclusion, and access across the arts industry. 
All art submissions to the 2021 Future Art Awards will be assessed by an independent jury of artists and art professionals in a blind review, including several featured and special mention artists of the 2020 Future Art Awards.
Our esteemed panel of jurors include: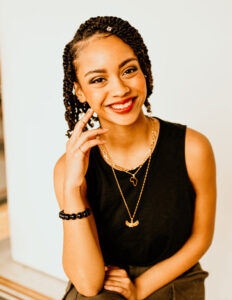 Arabia Parkey
Artist of Many Mediums
Arabia Parkey is a 17-year-old, self-taught artist from Des Moines, Iowa. Growing up in a Hip Hop clothing store, Arabia was immersed in the art of Black culture from a young age. Her paintings utilize bold colors and texture to reflect the highs and lows of the Black experience in an "in your face" and undeniable way. She also uses her role as an award-winning Editor in Chief of her school's newspaper, to educate her audience of Black history. The artist describes herself as a storyteller compelled to share her experiences and feelings of being Black in a world that systematically works against her. Arabia aims to connect with and open the minds of Black people of all ages and provoke thoughts of viewers of every race and background through her art, journalism, and activism. Arabia has experience and passions in a variety of mediums, including: sewing, street art, graphic design, and poetry. Currently, her focus is acrylic painting on any canvas she can get her hands on, whether that be old skateboards, denim, or stretched canvas. Through each piece of art, Arabia depicts an intense image influenced by both her upbringing and current world events affecting Black people.
Amy Smith
Contemporary Mixed-Media Artist & Muralist
Self-trained and always evolving, my artwork includes stencils, collage work, illustrations, digital graphic design, paint, and spray paint, all to create one-of-a-kind pieces that reflect both my passions and my fury, juxtaposed through the lens of imagination. While some of my work is driven by political, social, and environmental injustice, most reflect my deeply-rooted optimism and belief in the power of the feminist spirit, unity and love. 
My portraiture collage series is created from torn, recycled fashion magazines to represent both my love for fashion and my contempt for excessive consumption. Tearing fashion magazines that were carefully crafted to objectify women, I transform consumer messaging into words and images that celebrate the diversity and identity of both iconic and "everyday" strong, powerful women. 
My "Iconic Women" series pays homage to the courage, strength, and independence of women for whom we all owe a debt of gratitude. The mixed-media approach offers a new perspective on women's empowerment that leaves behind what society demands. My artistic roots began in New Jersey, but the rich California art community is where I found new levels of inspiration and mentorship. 
Featured in galleries including Saatchi's The Other Art Fair, LA Art Show, and Wallspace LA, my pieces can be found in private collections and in several major city office buildings while other pieces have served as backdrops on popular tv and film sets including "Dear White People," "Grownish," and "Insecure." My murals include an 8-foot image of Frieda Kahlo, featured at the San Diego North Park Art Festival and the painting of Maya Angelou in Hollywood, CA, was painted just before a peaceful protest in support of Black Lives Matter in 2020. I am a proud mother, activist, and an artist who never tires of exploring the edges of art, humanity, and hope.
Cheryl Haines
Executive Director, FOR-SITE Foundation & principal of Haines Gallery
Cheryl Haines is the founding executive director of the FOR-SITE Foundation and principal of Haines Gallery in San Francisco, CA. She was the curator of @Large: Ai Weiwei on Alcatraz and the driving force in securing the location for that landmark exhibition. For over thirty years, Haines has developed exhibitions and site-specific public programs that expose new audiences to contemporary art and advanced the discourse on art about place. Haines's dynamic curatorial stance presents challenging and provocative exhibitions by artists who explore cultural and environmental issues through a wide range of media, as well as public, site-specific commissions on a national scale.
In addition to @Large: Ai Weiwei on Alcatraz, Haines has conceived of and produced several other landmark projects, including International Orange (2012), a group exhibition at Fort Point honoring the 75th anniversary of the Golden Gate Bridge; Presidio Habitats (2010), which invited artists, designers, and architects to engage with the native flora and fauna of this national park; and a series of large scale, site-specific works by Andy Goldsworthy in the San Francisco Presidio. She has also initiated and produced residency projects with artists such as Richard Long at SFMOMA, Mark Dion at the Oakland Museum of California, and Cornelia Parker at Yerba Buena Center for the Arts; and has commissioned large-scale works by James Turrell and Andy Goldsworthy for the de Young Museum in San Francisco. In addition, Haines is principal and director of Haines Gallery, San Francisco. Established in 1987, the gallery supports emerging and established artists from the United States, Europe, Asia, and the Middle East. She is a founding advisor for the Asian Contemporary Art Consortium, has served on the Contemporary Advisory Committee at the Asian Art Museum, and is a member of both the Art Dealers Association of America and Art Table. Haines has been featured on KQED Public Radio's Forum with Michael Krasny and has provided her expertise at various speaking engagements, including SFMoMA's "Designing a Legacy: Female Game Changers in Art and Culture" and "Urban Place and Art Making," SXSW Eco's "Ai Weiwei on Alcatraz: Art, Parks + VR" and, most recently, "Out of Place: The Power of Art in Unexpected Spaces" at the Univeristy of San Francisco. Her cultural work and curatorial achievements have been recognized by the Asia Society, ArtTable, which honored Haines with their Northern California Chapter's Award of Service to the Visual Arts, and the city of San Francisco, which presented Haines with the Arts and Cultural Leadership Award. 
Cheryl Haines resides in San Francisco and Nevada City, California.
Chuck Styles
Multidisciplinary Artist
CHUCK STYLES is a multi disciplinary artist based out of the Philadelphia area and born in a small suburb outside of West Philadelphia. As a young artist at the age of 6 Styles found comfort in art while surviving the dynamics of a complex blended family, 5 compelling siblings, and eroding house conditions. Styles was no stranger to poverty and struggle growing up. His family although low on funds were full of love and support for his passion for creativity. In many ways, his artwork reflects both the reality of his childhood struggle and his desire for a better financial future.
Throughout his high school education, Styles was awarded multiple scholarship programs to Moore College of Art and other art institutions to expand his knowledge and grow his skills. Although while art was fulfilling his heart, it wasn't filling his pockets. Chuck went on to try his creative hand at barbering, using that income to pay for his Art Institute College Education and build his name in the barbering industry across the country. Providing itself lucrative, Styles continued to dive deeper into the barber industry gaining celebrity clientele, television appearances, and winning multiple 1st Place Awards Nationwide. After dedicating 10 years to his barber profession, he realized it was time to pivot and begin his journey to follow a dream he once had at 6 years old, a Professional Artist.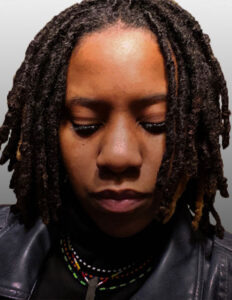 D'nae Harrison
Interdisciplinary Artist
D'nae Harrison is an award-winning Interdisciplinary Artist from Philadelphia, Pennsylvania. In 2014, she obtained her Bachelor of Fine Arts degree from The Pennsylvania State University. In 2017, the City of Philadelphia commissioned D'nae to create a 52 in x 52 in oil painting, which remains downtown on permanent display. During the same year, her work featured with Six Summit Gallery for NYFW '17 (Fall). In 2018, her work showcased at the former Robert Miller Gallery in Chelsea, Manhattan during the Eminent Domain exhibition. In 2020, her notable "Shaded Oppression" painting received the 2020 Future Art Award conferred by MOZAIK Philanthropy. Recently, Harrison's "Save The Date" mural featured on various news outlets such as WHYY, NBC10, CBS3, Yahoo News, and The Philadelphia Tribune in efforts to raise voting awareness during the To The Polls 2020 project in LOVE Park. D'nae is currently focused on creating a public art initiative dedicated to improving the quality of life in distressed and impoverished neighborhoods.
Francesca Bifulco
Visual Artist
Francesca Bifulco is a Los Angeles based native Southern Italian visual artist. She holds a degree in Visual Arts for Set Design from the Academy of Fine Arts in Rome and is a member of the LA based multi-media duo, Card 0 Collective. Bifulco's precise stark lines push a graphical sense through the medium of painting, fluctuating between large-scale canvases, textural wooden compositions and treatments, to multidimensional black box installations. Her dynamic line work simultaneously defines and blurs forms within a sentiment of controlled chaos, allowing her to crisscross the figurative and the abstract spheres. Bifulco's subjects span from crowds and their behavioral impact, to individuals affected by the cultural transformation dictated by social media, men playing cards in a conflicted and underrepresented neighborhood of Naples, to extracting shapes from the physical environment. In her current works she turns her energy inward to explore the effects of personal loss and the rise from the ashes, while delving into the social awakening deriving from systemic injustices, racism, and the political turmoil in the US. Her most distinctive subject has been crowds coming together and crossing paths. Her approach to the different subjects is permeated with an anthropological perspective as an essential part of her overall creative process.
Joel Garcia (Huichol)
Artist & Creative Strategist
Joel Garcia (Huichol) is an Indigenous artist and cultural organizer that uses Indigenous-based frameworks to center those most impacted, and arts-based strategies such as printmaking, installations, creative action, and altar-making to raise awareness of issues facing underserved communities, youth, and other targeted populations. His work explores healing and reconciliation, as well as memory and place. He's the co-founder of Meztli Projects, an Indigenous-based arts & culture collaborative centering indigeneity into the creative practice of Los Angeles. 
He previously served as Co-Director at Self Help Graphics & Art ('10-'18) a nationally acclaimed arts organization founded in 1972 which helped nurture Chicano Art and Dia de los Muertos.
He's a former fellow of Monument Lab's National Fellowship ('19) and current fellow (20-'21) of  "Shaping the Past" a partnership between the Goethe-Institute, Monument Lab and the German Federal Agency for Civic Education addressing pressing issues around what, whom, and how to remember in public spaces. Currently, he's an Artist-In-Residence at the LA Cleantech Incubator.
Joel's work centers his personal lived experience and uses it to bridge understanding between communities while also deconstructing how we understand race, indigeneity, class and other forms of identity for the purpose of supporting those most impacted.
John "Jahni" Moore
Visual Artist
John "Jahni" Moore is a southern born visual artist. His early years were spent immersed in books, church, and nature. Through books and the natural world he developed an insatiable desire to "know and express through the narrative." He is a graduate of Alabama A&M University with a Bachelor of Science degree in Graphic Design, an M. Ed in Art, and an M. F. A. from The School of the Art Institute of Chicago. As an educator, Moore has taught art from kindergarten to the university level. He is the creator of numerous murals from Chicago to Colombia South America where he twice served as Art Ambassador and his work was received in the Fernando Botero Library in San Cristobal. He has shown all over the United stated at venues such as Laxart in Los Angeles with Paul McCarthy and Jenny Hauser to New York Riverside Church alongside original works by Kehinde Wiley. Currently he works out of his studio he calls the C.H.U.R.C.H. (Come Help Us Restore Cosmic Harmony) in Huntsville, Alabama.
He works primarily in paint and charcoal but often makes use of assemblage as homage to his southern, indigenous, and African roots. In his upbringing saddled with the binary history of the American south, he was faced with the peculiar positionality of the "Black body" and its usage in that history. In his work, Moore contends with the duality of the Black body, placing it in the context of a created historical narrative rather than an imposed one.  The concepts of rebirth, resurrection, reclamation, and liberation are underlying themes in his work.
Miles Jaffe
Conceptual Artist
Miles Jaffe is an internationally represented conceptual artist based in Bridgehampton, New York. Raised in his father's architectural office from an early age, his bed was a drafting table and construction sites were his playgrounds. Trained in industrial design at RISD, his approach to art is based on rigorous analysis and technical sophistication. His work contemplates the relationship between artist, medium, and product – and thus the very nature of art itself. It is a parody of parodies – which makes it a tribute as well, with no small irony. Fabrication of the work – all done by hand in the studio – often requires a complex series of steps that incorporate a wide variety of processes ranging from traditional drawing, painting and metal fabrication to state of the art digital design and 3D printing.
Mobina Nouri
Multidisciplinary Artist
Mobina Nouri is an Iranian multi-disciplinary artist based in San Francisco whose practice reflects her personal history as a female immigrant. Nouri received her BA in Performance art and MA in Art and Design from Tehran Art University, Iran and her PhD in Creativity from City University London, UK. Working across a variety of media, the artist mines her country's tradition of storytelling, often turning to Persia's philosophies and mysticism to contemplate and reconsider the complexities which she bears witness to in the contemporary moment. Explorations of the body, the self, gender, unity and collective approaches are central to her practice which she approaches through a reimagining of linguistic and social schemas.
Mobina has exhibited internationally across a range of group exhibitions in Iran, United Kingdom and the United States. Her work is included in private collections and recently exhibited in the de Young Museum San Francisco, and has been featured in local and international publications. Nouri received the 2020 special mention artist award from MOZAIK's Future Art Awards, 2020 Juror's Choice in "Art Saves Humanity" Competition Including Jerry Saltz, Marine Tanguy, Christine Cuan and Poppy Simpson and 2019 Juror's choice, San Francisco Women Artists Gallery. She is one of the five female founders of Project13 Exhibition.
Future. Art. Awards. Curator
Curation of the Future Art Awards Virtual Exhibition, opening free to the public in June 2021, will be presented by Dr. Shiva Balaghi.
Shiva Balaghi, Ph.D.
Cultural Historian, Educator, Curator
Shiva Balaghi is senior adviser to the provost and president of The American University in Cairo for the arts and cultural programs. A cultural historian, she specializes in the visual culture of the Middle East and its diasporas.
Balaghi has curated a dozen exhibitions, including A Boundless Drop to a Boundless Ocean at the Orlando Museum of Art and the Tahrir Cultural Center of the American University in Cairo; Glitch: Art and Technology at AUC; co-curating Parviz Tanavoli at the Davis Museum of Wellesley College; Marcos Grigorian at Frieze Masters, London; and Ghada Amer's Earth Love Fire at AlSerkal Avenue in Dubai. She was a curatorial consultant for Between Word and Image: Modern Iranian Visual Culture at NYU's Grey Art Gallery and co-edited the related collection of essays, Picturing Iran: Art Society and Revolution. Her other books include Saddam Hussein: A Biography and Reconstructing Gender in the Middle East (co-edited). Balaghi has published scholarly essays for museums including the Guggenheim, Serralves, Warhol Museum, Fine Arts Museum of San Francisco, Tehran Museum of Contemporary Art, Hood Museum of Dartmouth College, Queens Museum, and Newport Art Museum. She's written on visual culture for publications such as Artforum, Hyperallergic, Ibraaz, Iranian Studies, and MERIP. 
For nearly two decades, Balaghi taught at New York University and Brown University. She holds a Ph.D. in history from the University of Michigan, Ann Arbor.
Stay up to date with MOZAIK