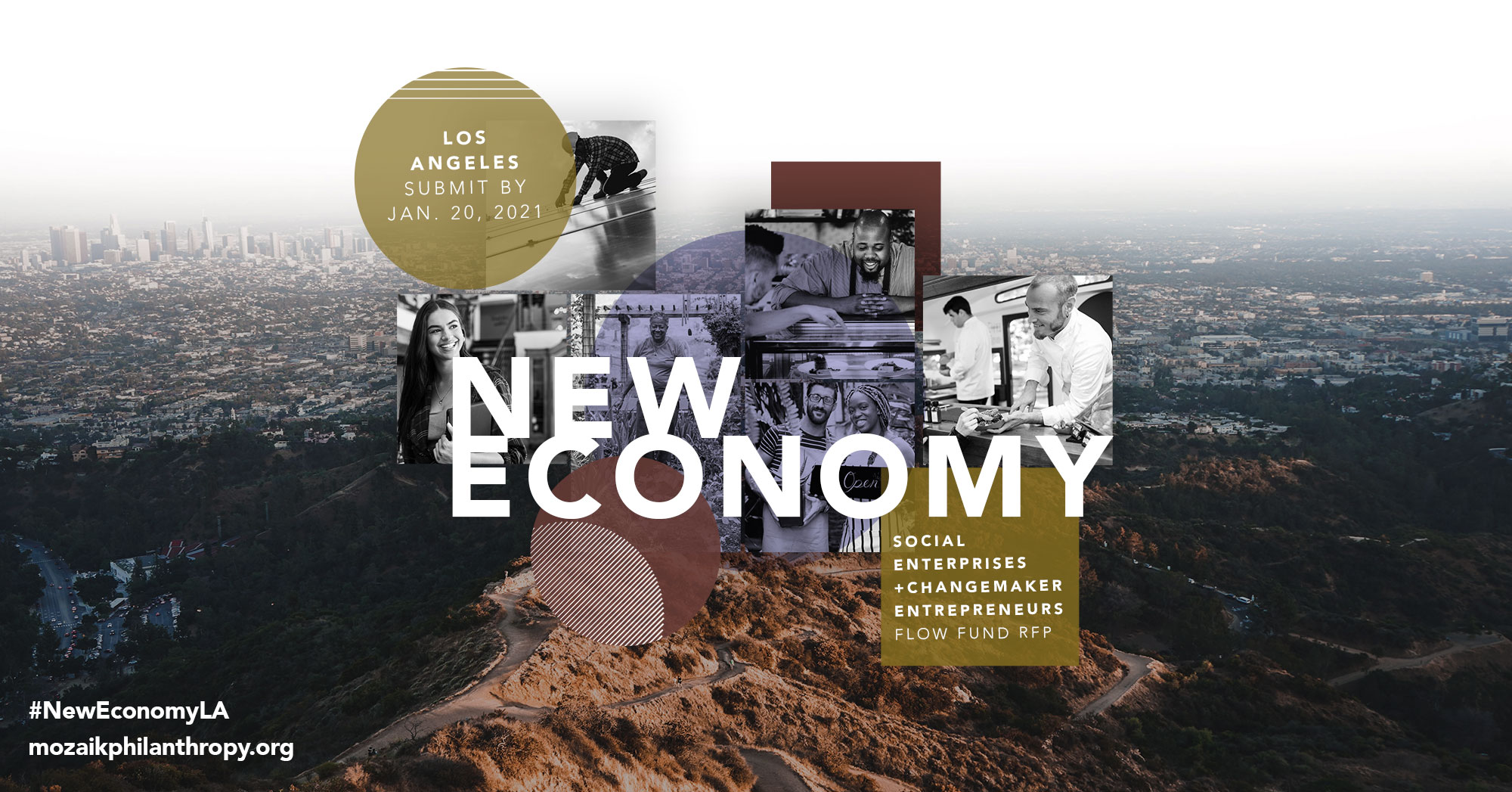 Closed For Submissions
A fund for Los-Angeles-based social enterprise organizations and changemaker entrepreneurs.
Closed For Submissions
A fund for Los-Angeles-based social enterprise organizations and changemaker entrepreneurs.
Deadline extended to January 20, 2021 due to the continued impact of COVID-19 on individuals, organizations and businesses.
Fund Total: $70,000
Grants between $5,000 – $10,000
NEW ECONOMY is designed to support groundbreaking for-profit / for-purpose social enterprise organizations, or individuals, committed to empowering human potential by providing services and products that advance a more just, sustainable, and equitable economy across communities and causes, markets and movements.
Social enterprises & entrepreneurial changemakers work to solve critical social problems and address basic unmet needs through innovation. Their entrepreneurial endeavors create systems change through regenerative economics, improving the lives of underserved or marginalized groups. 
The $70,000 NEW ECONOMY fund will support innovative social enterprise organizations with 501(c)3 nonprofit status, working to deliver social, environmental and economic returns  through a sustainable revenue-generating business model. The fund is also open to individual social entrepreneurs with an innovative social enterprise idea, who are working to bring their plan to life. 
The fund is open to all applicants within the Los Angeles metropolitan area.
Closed For Submissions
Guidelines + Criteria For Application
FOR ORGANIZATIONS:
Social Enterprises submitting for funding must have a 501(c)3 nonprofit EIN to be eligible to receive a grant and be based in the Los Angeles metropolitan areas.
FOR INDIVIDUALS:
Entrepreneurial changemakers submitting for funding must be living in the Los Angeles metropolitan area and make clear how their social enterprise idea advances a mission that is both for-purpose/for-profit-generating and that solves a social injustice across a particular community, market, or cause. Grants will be issued through the individual's fiscal sponsor. In the event that the individual does not have fiscal sponsorship, MOZAIK Philanthropy will provide fiscal sponsorship through our local partner, Social Impact Media Awards.
All proposals should be uploaded in PDF format. They can be any length and can include outbound links to websites, reports, videos, or other resources. Preference will be given to organizations or ideas that support a historically underserved or marginalized community. All proposals should include the following information:
VISION & STORY
Tell us how your organization or idea addresses a social, environmental, or economic injustice across a particular community, industry, or cause in the Los Angeles metropolitan area. What is your mission and vision statement? What is your founding story and who is the leadership that sparked the creation or ideation of your social enterprise? 
CENTERING COMMUNITY AND STAKEHOLDER NEEDS 
Tell us about your community and target markets. How is your social enterprise model grounded in the local knowledge/experiences of your stakeholders/clients? How does your social enterprise advance social, cultural and/or environmental justice for those stakeholders/clients? Does your social enterprise offer healing/trauma-informed opportunities & resources that are culturally appropriate and accessible? If so, please tell us about those resources. 
BUSINESS MODEL AND SCALABILITY 
Tell us how you balance mission and margin. What's the problem(s) you're addressing and why? What products or services are you offering/plan to offer to address the problem? What's your business model?  How do you expect to build, grow and sustain your operation? If you've launched, what metrics are you using to measure your impact and the success of your business model?  If you haven't yet launched, what is your plan?