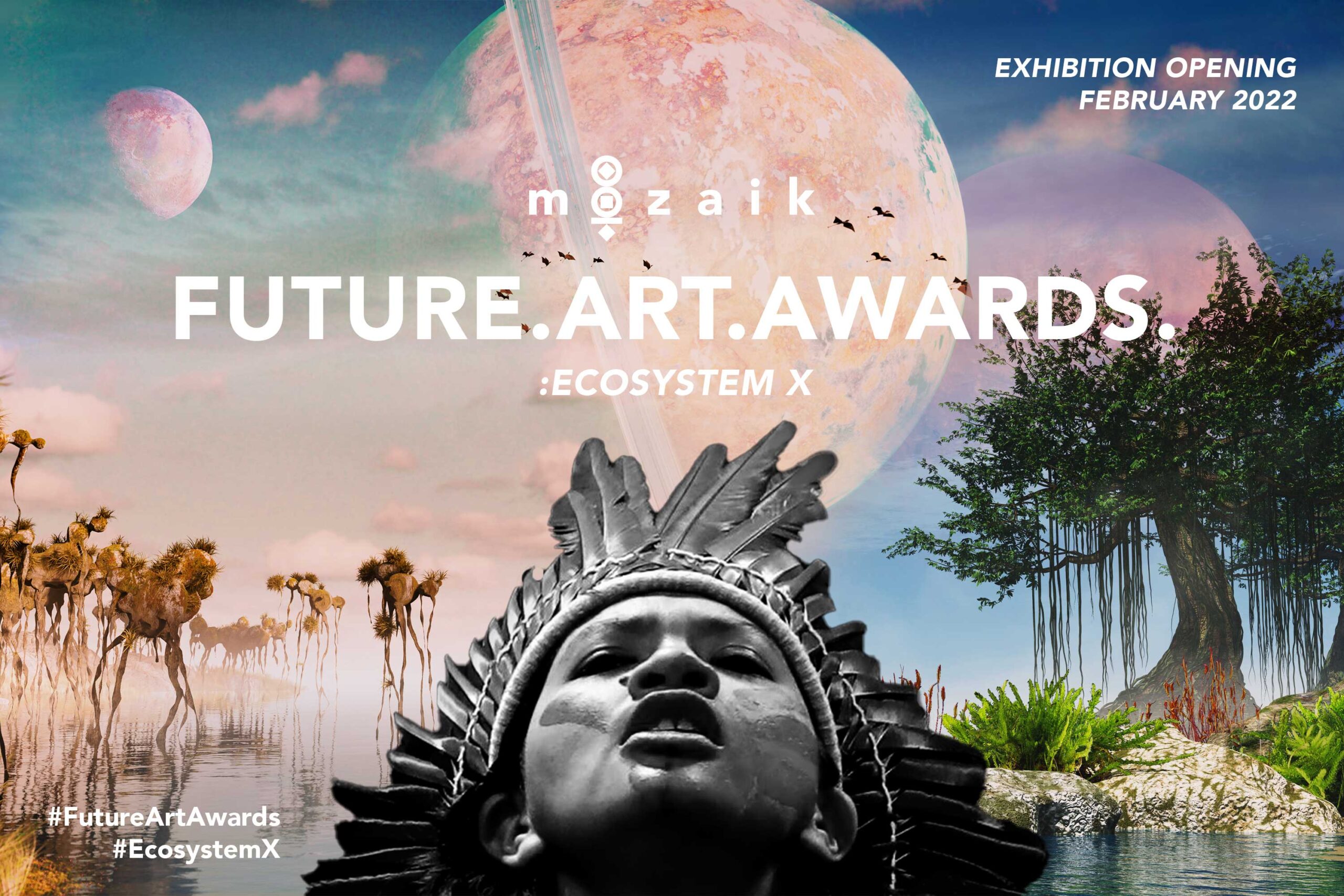 2022 FUTURE ART AWARDS: ECOSYSTEM X
Congratulations to all the creative changemakers who submitted to our open call for the 3rd cycle of the Future Art Awards: Ecosystem X— an arts-based reimagining of life on Earth.
From October to December 2021, hundreds of artists across the country submitted artworks that expressed an aspirational vision of humanity by illustrating the principles, processes, or practices of a just world, where the interrelationships between living organisms and their physical environment represent freedom, sustainability, and new futurities for planetary change. BIPOC and other historically marginalized or underrepresented artists were encouraged to submit their art. All professional, amateur, and student artists were eligible, and all artistic mediums welcome.
In keeping with MOZAIK Philanthropy's mission to democratize philanthropy through a participatory grantmaking practice, the organization welcomed an independent jury of artists and arts professionals to assess the art submissions in a blind review, ultimately selecting 10 featured artists to receive $5,000 honorarias. An inaugural winner of the Future Student Art Prize was also selected to receive a $5,000 academic scholarship/stipend, and an additional 30 special mention artists received $1,000 honorarias. 
Ecosystem X artists represent an array of creative expressions, including photographers, painters, sculptors, street artists, muralists, mixed-media artists, visual, multi and interdisciplinary artists, illustrators, animators, 3D artists, cartoonists, technologists, shorts filmmakers, poets, art writers, composers, weavers, dancers, and creative performers.
Collectively, all artists will showcase their winning artworks in a curated virtual exhibition opening free to the public in early February 2022.  
Join us in celebrating the 2022 Future Art Awards: Ecosystem X artists…
media kit
explore exhibition
meet the jurors
download artist laurels
2022 FUTURE ART AWARDS: ECOSYSTEM X
Meet The 11 Featured Artists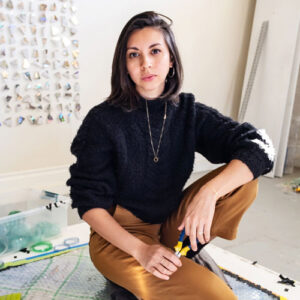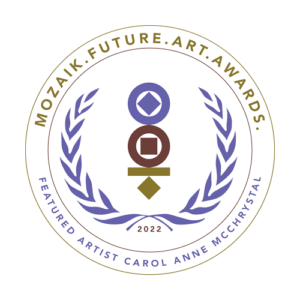 Carol Anne McChrystal
Featured Art: "Sandstone Keepsake I (Beneath the Paving Stones, Pangea)"
Los Angeles, CA
Carol Anne McChrystal is a cultural worker with roots in the island nations of the Philippines and Ireland. Her materially driven sculptures work through chemical processes and labor-intensive hand-making to explore the legacies of colonialism and trade, as well as the ways in which the climate catastrophe compounds these histories of inequity. Inhabiting the tension between Earth's immense history and the absurdly mundane everyday experience of plastic and labor, her practice consolidates painstakingly hand-made and mass-produced consumables to pry open a speculative space in which to resist the means-ends rationale of late capitalism.
Her sculptures have been exhibited in Los Angeles at Mata Gallery, Avenue 50 Studios, and Acogedor Space. She has participated in several residency programs, including Skowhegan School of Painting and Sculpture, ACRE, and Burren College of Art. Her arts writing has been published on platforms like Art Practical, while her work with the collaborative duo Nightmare City has been written about in publications such as ArtForum and Modern Painters. Born into the dual diaspora of the Philippines and Ireland, she currently lives and works on unceded Tongva land where she also organizes with GABRIELA, the anti-imperialist Filipino women's group.
website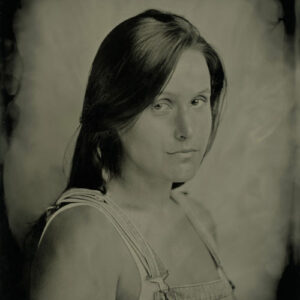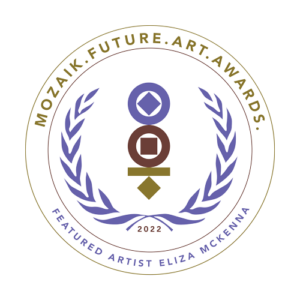 Eliza McKenna
Featured Art: "I Have Sunk in Deep Mud, and There is No Footing; I Have Come into Deep Waters, and a Flood Sweeps Over me."
Brooklyn, NY
Born in Rhinebeck, NY, and longtime resident of Woodstock, NY, Eliza McKenna divides her time between the Hudson Valley and Rural America. After graduating from Wesleyan University with a degree in film studies, she was accepted into Pratt Institute for her MFA in Photography. Her photographs reveal a profound attachment to the human experience and the essence of myth in everyday life. Having grown up in a community overrun by opioid addiction has given her a conscious view of impermanence and its effect on community. Muddy adolescents tumble through the trenches, kids too young to be riding motorbikes race through the frame, and lost girls attempt to find their place in a male-dominated environment. Eliza's view of her surroundings blends documentary and conceptual impulses to create mythical prose.
website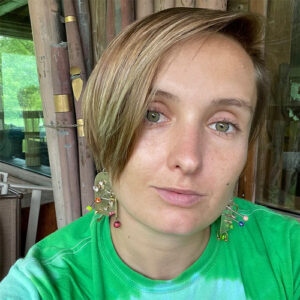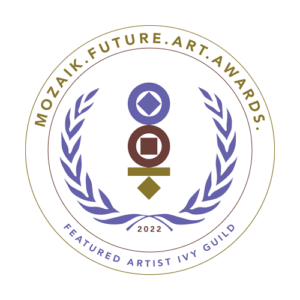 Ivy Guild
Featured Art: "The Keeling" 
San Diego, CA
Ivy Guild is an interdisciplinary artist and educator invested in researching a post-human world in order to illustrate speculative environments left behind after the 6th Great Extinction. Inorganic interactions between manmade and biological materials recur in fictional vignettes in her work. Guild pivots away from considerations of the survival of the planet and instead examines the following questions: will human beings survive? And: how many species will we take with us on our jolly ride into the grave of extinction? Guild uses her sculptural installations as a tool for processing the physical traumas and alterations her body has sustained. She confronts the unnatural fusion of the body with manufactured hardware and power tools that she has lived throughout the creation of her practice and this body of work. Guild received Bachelor of Arts degrees in Visual Arts and Art History from the University of San Diego and her Master of Fine Arts in Studio Art from the University of California, Irvine. Pedagogy is key to Guild's practice and she is a Studio Art Faculty member at La Jolla Country Day School.
website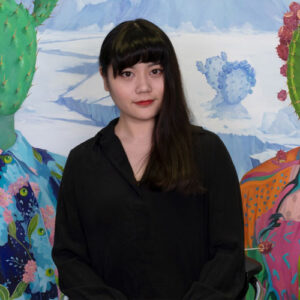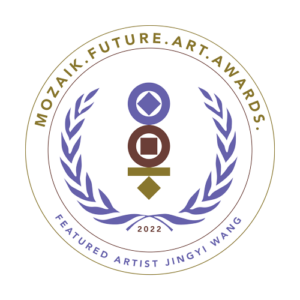 Jingyi Wang
Featured Art: "Poking" 
Jersey city, NJ
Jingyi Wang is a New York-based visual artist who specializes in oil painting. Her art focuses on the relationship between nature and culture. Observation and perception is the inspiration of her artistic creation. She associates the fragile with the acute, the serious with the humorous tones, the poignant with the longing. cacti-human beings reflect the biological and psychological aspects of life, approaching the subtle and intimate intersubjectivity of humanity. With these elements and colors, Jingyi Wang would like to extend human bodies to the ground and mother nature, creating space for dialogue and collaboration between human and nature.
website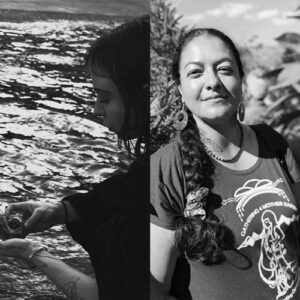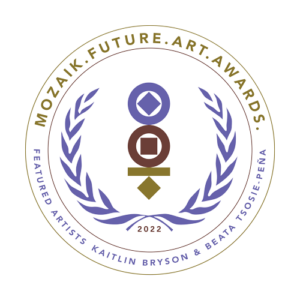 Kaitlin Bryson & Beata Tsosie-Peña
Featured Art: "Many Hands"
Reno, NV
Kaitlin Bryson is a queer, ecological artist concerned with environmental and social justice. Her art practice and activism are focused on biological and metaphysical applications of healing, responding to the pervasive persistence of harm in the world. Bryson primarily works with fungi as collaborators, materials, and metaphors for her artworks.
Bryson received an MFA in Art & Ecology from the University of New Mexico and currently lives nomadically throughout the western United States, working as a practicing artist, land-steward, and radical educator. Bryson has received support from the Lannan and Andrew W. Mellon Foundation(s) to create ecologically, remediative artworks nationally and internationally. In 2019, Bryson co-founded The Submergence Collective, an environmental arts collective focused on projects that imagine more collaborative, creative, hopeful, and ecologically connected futures for our human species and rest of the living world.
Beata Tsosie-Peña, B.A., A.A., is from Santa Clara Pueblo and El Rito, NM. She is a mother, poet, advocate, seed keeper, and is certified in Infant Massage, as a Developmental Specialist, an Educator, A Lactation Counselor, a full-spectrum Birthworker, and in Indigenous Sustainable Design (permaculture). She led the creation of the Española Healing Foods Oasis demonstration garden and Seed Library with the local nonprofit, Tewa Women United. She is currently on the steering committee for the Traditional Native American Farmers Association and is a board member for Flowering Tree Permaculture Institute. She is a Pueblo representative for the New Mexico Governor's task force on Missing and Murdered Indigenous Women and Relatives serving a second term. She has been working to address impacts and advocate for environmental and reproductive health and justice for over a decade. She is currently starting a new role as the organizational director of Breath of My Heart Birthplace.
website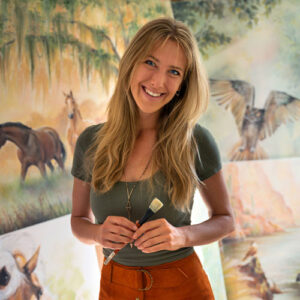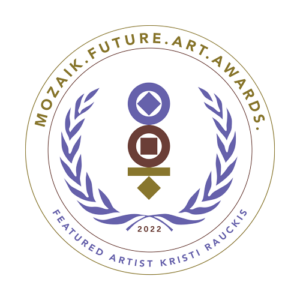 Kristi Rauckis
Featured Art: "Juniper Rising"
Flagstaff, AZ
What art would ensue if nature was given a voice?
Kristi Rauckis, an Arizona based artist, has committed to asking herself these kinds of questions and seeing what answers and art emerge from that space. 
She, her partner, and her dog have taken to the woods, the canyons and the mountains over the last year in their self-built-out Promaster van to create and live from a deeper connection with nature. "I want to communicate and share the lightness I feel when I am outside—the interconnectedness between the animals, the plants and the environment, and how we as humans can honor our relationship with the earth." 
Kristi hopes her artwork serves to strengthen and remind others of this sacred partnership—that
our appreciation of nature not only helps to save it, but can actually add to its beauty. The artwork featured in her latest collection brings in a surreal quality, almost as if she created portals to other dimensions where the earth is revered, respected, and all live in harmony. She holds the vision that this is the future we will choose to create, especially the more we allow ourselves to see it as possible.
website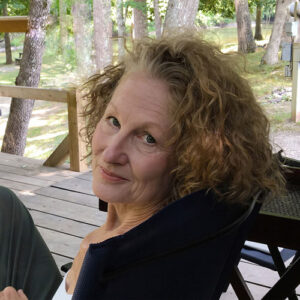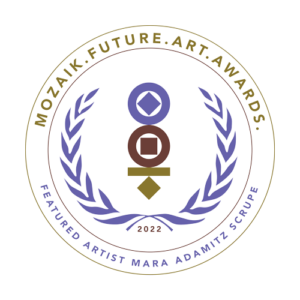 Mara Adamitz Scrupe
Featured Art: "Love Letter to Leader"
New Canton, VA
Mara Adamitz Scrupe is a visual artist, writer and documentary filmmaker. With her partner Daniel Jon Holm she runs Low Rent Pictures, an independent film production company. Her drawings, artist books, poetry and essays, documentaries, and site-specific and environmental installations, have for decades given passionate voice to environmentally attuned ideas about human relationships with landscape, place and nature. Her fellowships, grants and awards include the National Endowment for the Arts/CEC ArtsLink Fellowship, District of Columbia/ Washington, DC Artist Fellowship, Virginia Museum of Fine Arts Prize and Virginia Individual Artist Fellowship. A fellow of MacDowell Colony, Djerassi Foundation and Tyrone Guthrie Centre (Ireland), she has served as resident artist at Irish Museum of Modern Art Dublin, Pedvale Arts Park (Latvia), Europos Parkas Open Air Museum (Lithuania) and USF Verftet-AiR/Bergen (Norway). She has authored six award-winning poetry collections and has won or been nominated/ shortlisted for prestigious poetry prizes including Canterbury International Arts Festival Poet of the Year (UK), Pushcart Poetry Prize (USA – twice nominated), Rubery International Book Award (UK), Fish Prize (Ireland), Aesthetica Award (UK), Canberra Vice-Chancellor's Award, (Australia), and National Poetry Competition (UK), among many others. Mara Adamitz Scrupe is University of the Arts/ Philadelphia Dean and Professor Emerita.
website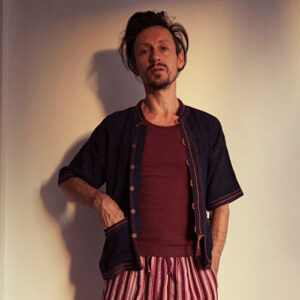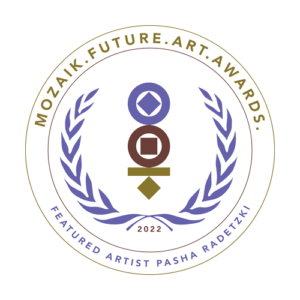 Pasha Radetzki
Featured Art: "Do Sul. House Of Nature. Cloud Portal."
New York, NY
Pasha Radetzki is a multidisciplinary artist who founded Radetzki studioRa in New York in 1999. He creates landscape sculptures and eco-conscious architectural installations which envision regeneration in natural and urban environments as well as in human relations. Radetzki's exhibitions, performances, educational and community art initiatives focus on ontological aspects of the current human condition as they address the themes of socio-cultural aspirations of the regions where commissions take place. His oeuvre strives to present a unifying, equitable and sustainable worldview for our common future.
Radetzki's solo exhibitions were held in New York, Manchester, Shanghai, São Paulo,Taubaté and San Miguel De Allende.  His international art exhibitions include dOCUMENTA 13, Manifesta 11, 4th Moscow Biennale of Contemporary Art; Beijing 798 Biennale, 4th Photo Biennial in Moscow, Manifesta 4 and 8th Photo Biennial in Cordoba.
Radetzki's Earth Portals landscape sculptures received CodaWorx Award (2014) and his Spatial Being series were awarded ArtsLink Award in New York (2002). The artist received multiple sculpture commissions from Instituto Catuçaba and Casa Vogue in São Paulo, Brazil, performance commissions from Manifesta 11 Biennial (presented at Cabaret Voltaire in Zurich), 4th Moscow Biennale of Contemporary Art, and he conducted numerous educational workshops, artist talks and lectures.
website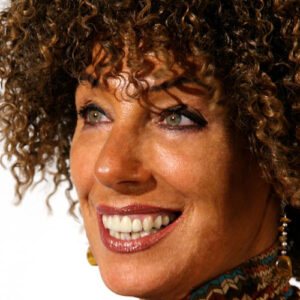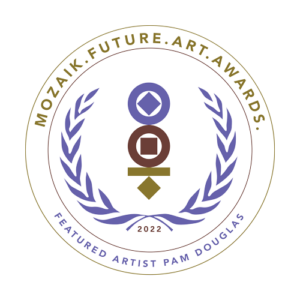 Pam Douglas
Featured Art: "Mama Holds Up The World"
Los Angeles, CA
Pam Douglas is a mixed media artist whose featured exhibits include the California African American Museum, the Los Angeles County Museum of Art, the LA Art Show, and the USC Fisher Museum. Her path led through drawing, painting, writing, sculpture and installation that continues her life-long dedication to humanitarian issues. 
Pam grew up in New York City riding the damp subway and trudging to school through the freezing slush without a coat. Her family is multi-racial and growing up she identified with her immigrant grandmother who was not able to read or write. Now when she sees desperate families, especially refugees, her response is personal. 
Her Sanctuary project began as a visceral response to refugees around the world. The effects of climate change as well as geopolitical pressures and violence are driving extraordinary migrations. After three years in development, Sanctuary received acclaim including "The Next Big Thing" at Studio Channel Islands; First Prize from Women Painters West for "Hope Springs Eternal;" an award from a curator at the California African American Museum at the Irvine Fine Arts Center; and an Individual Artist Grant from Vibrant Cities. The work continues with a new phase, "Bearing Witness," a graphic novel currently in progress.
website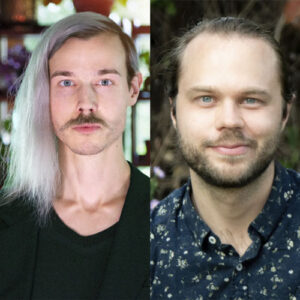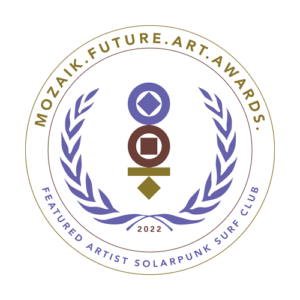 Solarpunk Surf Club
Featured Art: "Solarpunk Futures"
Madison, WI
Solarpunk Surf Club is an artist collective that creates and curates egalitarian platforms for surfing the waves of still-possible worlds. We work within the aesthetics of solarpunk in order to bring forth the latent horizontalism and communalism inherent in its reconstructive vision. Our works politicize, historicize, and demystify a collective ecological, utopian future.
website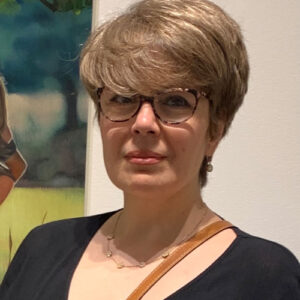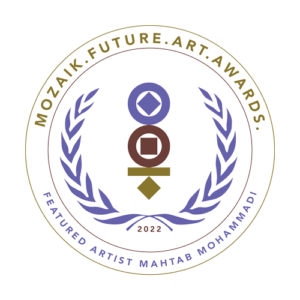 FUTURE STUDENT ART PRIZE WINNER
⭐ Mahtab Mohammadi ⭐
"Untitled (2020)"
California State University, Fullerton (CSUF)
Irvine, CA
Mahtab Mohammadi was born in Tehran, Iran and currently lives in Irvine, California. She earned her BA in studio art from UC Irvine and is an MFA candidate at CSU Fullerton.
After several years of working and training as a professional artist in Iran, she and her family immigrated to the U.S. in 2012 where she started to study English at a community college. Later, she enrolled in a life drawing class where she found the best platform to practice her skills and continue her education. According to Mahtab, "The transformation was huge for me, I used to be a full-time artist in Iran. With my immigration to the U.S. I had to become a full-time student."  Throughout the difficult time of adopting herself to study at university only the strong passion for painting inspired her to overcome the challenges and start from the beginning again.
In Iran, she studied Chemistry at Islamic Azad University, but later she followed her dream and pursued art. She presented her work in a lot of group shows and three solo shows in Tehran. Her last show in the Iranian Artists Forum was a breakthrough followed by publishing a book of her work.  
Her current paintings reflect her experience living in a men dominated society and witnessing discrimination against women and all gender minorities. The subjects of her art— domestic abuse, war victims, Persian women, and Persian gardens—emanate from bitter and unforgettable experiences. She has participated in many juried group exhibitions in the US. She received the second prize in 2020 in the Made in California show in Brea Gallery and the best painting award in 2016 from Irvine Valley College. She currently enjoys teaching Drawing and Painting at California State University Fullerton and is working to receive her Master's in Fine Art in a year.
website
2022 FUTURE ART AWARDS: ECOSYSTEM X
Meet The Special Mention Artists
Abel Manalo
"Learn from the Past, Live in the Present, Prepare for the Future"
Aleksandar Popovic
"Settlements X"
Aliona Korsunska
"The Bubble"
Amuri Morris
"Shelton Johnson Calls"
Anna Rotty
Terra #89
Anthony Belizaire
"Nature's Descendants of Tofinu"
Ariana Trinneer
"Shift"
Ashley Eliza Williams
"Organism"
Beatie Wolfe
"From Green to Red – An environmental protest piece built from 800,000 yrs of our planet's data"
Carrie Lederer
"Under the Wide Sky We Gather"
Christina Ramos
"Resurrection"
Cynda Valle
"New Neighbors At Area 51"
Daisy Crane
"Culture Shifted"
David Krovblit
"Alien 👽 From Earth 🌍 II (Andromeda's Landfill 🗑 Series)"
Debra Scacco
"Stack, 1994"
Hannah Smith
"Heartbeat in the Thigh Meat"
Howard Skrill
"Jackson Splashed Red Nola"
Jennifer McKinnon Richman
"Sea Foam"
John "Jahni" Moore
"The HuMan(E) Project(ION)"
Jose Trejo Maya
"Transparencies In Time"
Kevin Flores del Villar
"The Pauperized Prince"
Kyle Jordan
"She Who Sets the Table Shall Sit at It"
Laura Lawson
"Mars 2888 Northern Plains"
Madge Evers
"Carry A Torch"
Nick Pedersen
"Sanctuary"
Paige Emery
"Radical Gardening: Seeds for Regenerative Futures"
Shaun Hu
"Internet of Everything: All Connections"
Shauna Peck
"TIME"
Webson Ji
"Imitation"
Exhibition opening early 2022. Subscribe below to stay
in the know.